At Canonical, we believe in the power of open source to change the world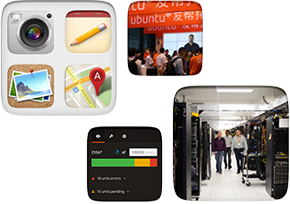 Canonical was created alongside Ubuntu to help it reach a wider market. Our services help governments and businesses the world over with migrations, management and support for their Ubuntu deployments. Together with our partners, we ensure that Ubuntu runs reliably on every platform from the PC and the smartphone to the server and, crucially, the cloud.
What we do
We work with our hardware partners to make Ubuntu available pre-installed on PCs in more than 3,000 retailers around the world.

We certify hundreds of PCs and servers from OEMs including Dell, HP and Lenovo, for use in the consumer and commercial sectors.

We make Ubuntu available on the world's most popular public clouds, including Amazon Web Services, IBM, Rackspace, Windows Azure and HP Cloud.

We build cloud data centres for some of the world's biggest telecommunications providers.

We promote the use of open source in education, leading to large-scale desktop migrations covering hundreds of thousands of machines.

We provide 24/7 support for some of the most famous technology companies in the world, including Netflix, Bloomberg and Google.

We maintain a world class commercial partner network around Ubuntu, including leading names such as VMware and world-changing open source technologies like OpenStack.
Canonical and open source
We believe in the power of open source software; Ubuntu could not exist without its worldwide community of voluntary developers. We are committed to creating it, refining it, certifying it for reliability and promoting its use. As well as launching and running our own projects, we contribute staff, code and funding to many more.
Our management team

Jane Silber

Jane Silber
Chief Executive Officer
Jane has over 20 years' experience in business development, operations and software management. Before becoming Canonical's CEO in 2010, Jane held VP roles at Canonical, Interactive Television Company and General Dynamics C4 Systems.
"As Ubuntu becomes the open-source standard in so many markets, our portfolio continues to flourish. I can't imagine a better place to work."
Mark Shuttleworth

Mark Shuttleworth
Founder
Mark founded security specialist Thawte before selling the company to VeriSign in 1999. In 2004, he founded Ubuntu and Canonical, combining responsibility for strategy and user experience at Canonical with roles on the Ubuntu Technical Board and Community Council.
"Contributing to Ubuntu is a profession for some and a passion for others. Either way, it's changing the world."
Anand Krishnan
Anand Krishnan
EVP, Cloud
Anand heads up Canonical's cloud division and is responsible for all cloud product, marketing, sales, business-development and support. Anand measures his days by the number of happy customers using our cloud stack and tooling. Before joining Canonical, Anand held several leadership positions at Microsoft Corp and helped launch and build several successful businesses both at Microsoft and in the startup world prior to that.
"Helping customers build and use the cloud that best fits them — our mission is to make that a reality for any customer of any size."
Robbie Williamson

Robbie Williamson
VP, Customer Success
Robbie owns the mission of ensuring Canonical customers and partners have a first class experience with both our products and services. Customer Success is responsible for delivering world-wide, 24x7 technical support, product documentation, solutions training, technical pre-sales support, cloud architecture and consultancy services, and end-to-end engagement management for Canonical services and products built on Ubuntu Server and cloud. Prior to this role, he lead our Cloud and DevOps engineering efforts. Before Canonical, Robbie held several leadership positions within IBM's Linux Technology Center.
"The spirit of Ubuntu doesn't stop with how we approach the creation of our products or interact with our community — it also extends to how we treat our partners and deliver for our customers."
Chris Kenyon

Chris Kenyon
SVP, Cloud Sales and Business Development
Chris is responsible for the commercial success of Ubuntu in both public and private cloud. He is responsible for Canonical's direct and channel business around Ubuntu Openstack as well as Canonical's global partnerships with the likes of IBM, HP, Cisco, Dell, Amazon Web Services, Microsoft Azure.
"Ubuntu is born of the cloud — Both the industry standard for Ubuntu Openstack and the world's leading cloud guest. We help companies get the most from it."
Neil French
Neil French
VP, Operations
Neil is responsible for all of Canonical's internal operations. Before joining Canonical, he was the Director of Commercial Operations at Thomsons Online Benefits, the leading Software-as-a-Service provider for global employee benefits administration, and before that held business and product leadership roles at Epson, 3Com and Hewlett-Packard.
"Canonical is perfectly positioned to drive key changes happening in the technology industry today. I'm excited to be supporting this talented team to achieve those goals and deliver excellent products and services to our customers and partners"